What Country Uses Electric Cars the Most?
Countries around the world are eager to transition from gasoline-fueled vehicles to electric vehicles. While consumers are eager for the transition to take place, automobile manufacturers are biding their time. The Big Three in Detroit, General Motors, Ford, and Fiat Chrysler, are taking a wait and see approach, with Germany's top manufacturers following suit. Market share of new car sales for 2018 for selected countries and regions:
Norway 39.2%

Iceland 14.05%

Andorra 5.6%

Sweden 5.2%

Belgium 2.68%

Netherlands 2.6%

Finland 2.57%

Switzerland 2.55%

China 2.1%

Austria 2.06%
France 1.98%
UK 1.86%
Europe 1.74%
USA 1.13%
Japan 1.1%.
Denmark 0.4%
Estonia 0.2%
The excitement and growth surrounding electric cars is reassuring. Since 2016, the production of electric vehicles has increased, leading to over two million electric vehicles on the road worldwide. Global sales of electric cars in 2016 reached an astonishing 750,000. In 2018, consumers are learning 1 in every 300 vehicles on the street is an electric car.
Norway
Norway has remained at the forefront of the electric car movement, by market share. Currently, Norway remains the worldwide leader in deploying electric vehicles worldwide. In 2016 nearly one-third of the cars sold in the country were electric. By 2018, 10% of all cars on Norwegian roadways are electric.
China
China is not just the largest car manufacturer in the world, they are the largest electric car manufacturer in the world as well, selling 1,728,447 units from January 2011 through December 2017. These numbers include heavy-duty commercial vehicles such as sanitation trucks and buses.
Germany
As one of Europe's largest passenger car markets, Germany has had a total of 129,246 electric cars registered in since 2010. Ranking fifth in plug-in car sales, nearly 80% of electric vehicles registered through September 2016, were registered since 2014.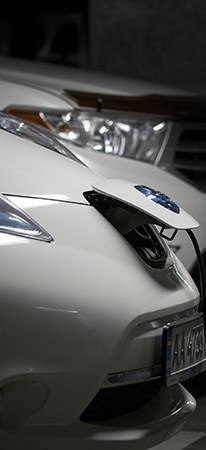 United Kingdom
As of December 2017, more than 137,000 light-duty electric vehicles have been registered in the United Kingdom. Approximately 5,100 of those vehicles include electric commercial vans. To keep up with the growing trend, as of October 2016, the United Kingdom has installed 11,903 public charging stations, of which 696 were rapid chargers.
Since 2010, the Mitsubishi Outland P-HEV has been the top-selling electric car, accounting for nearly 50% of the vehicles sold, with 26,600 units registered in the UK.
United States of America
The popularity of the electric vehicle extends to the United States with 764,666 cumulative sales of legal electric cars since 2008. Of those 764,666 vehicles 52,9% are BEVs or being all-electric cars, and 47.1% hybrid electric vehicles. The total number of plug-in electric vehicles has doubled from 2008 to 2014.
California has become the leading state in electric car sales in the country, with 427,952 vehicles registered as of June 2018. This accounts for 48% of electric car sales in the American market from 2011 through 2016. As each state does their part to encourage the purchase of electric vehicles, the United States Federal Government is adding an incentive. To encourage citizens to purchase zero-emissions vehicles, or partial-zero-emissions vehicles, they have added a tax credit up to $7,500, varying based on battery capacity.
The global cumulative sales of highway-legal light-duty electric vehicles reached an impressive 2 million units before the end of 2016, 3 million in November 2017, and hit the 4 million mark in September 2018. Electric cars for the average person's everyday lifestyle are on the rise, achieving 1.3% of new car sales market share in 2017, increasing from 0.62% in 2015.
Current projections claim the number of plug-in electric vehicles on the road will triple worldwide by the year 2020. This means in the next year or two, large vehicle manufacturers will have to become more aggressive with production.
Read more about buying an electric car in the UK.